National Jewellery Awards (NJA)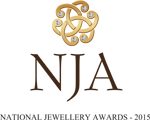 GJC accords recognition and award through the National Jewellery Awards (NJA) platform annually to stimulate talent, honor innovation and creativity of the jewelers & designers to boost the industry.
NJA was set in motion to motivate and promote the creativity of the Indian jewellery designers and manufacturers with the view to place the spotlight on India's design talent pool.
NJA is one of country's most prestigious award that honors the work of designers and manufacturers in various categories such as Best Jewellery Designs, Best Diamond & Precious Metal Jewellery, and even an award for the Best Retail Ambience. The jewellery aims to driving excellence across the various aspects of the industry segment and reward the passion and innovation, setting new benchmarks within the industry each year.
For more information, contact : info@gjc.org.in / 022 67382700